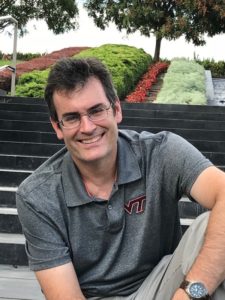 Neil Zahradka grew up on a small family farm in Prince George, Virginia, raised amongst the peanuts, corn, grain, feeder pigs, and vegetables in the garden. Rev. Zahradka's scientific and theological education began there on the farm, to which anyone with that formative rural experience will attest. After graduating as valedictorian of his high school class, Rev. Zahradka had grand aspirations of leaving the hoe behind and venturing into the technical world of engineering at Virginia Tech. He soon discovered that something about the farm ran through his whole self, and he received his BS in Agricultural Engineering, including a year-long cooperative education experience with Philip Morris working with tobacco residuals.
After about 18 months of graduate work in Biological Systems Engineering at Virginia Tech, Rev. Zahradka became a bit disillusioned with academia and went to work for the Virginia Department of Conservation and Recreation as a nutrient management specialist, working one-on-one with grain and produce farmers. His work with his favorite nutrient, manure, led to a seven year stretch designing manure management structures for contract hog farmers and managing hog waste in Virginia and North Carolina for a subsidiary of Smithfield Foods.
Rev. Zahradka currently works for the Virginia Department of Environmental Quality, where he is the Manager of the Office of Land Application Programs. His group administers the environmental regulations that apply to large livestock and poultry farms, as well as to the recycling of solid residuals from municipal wastewater treatment plants. 
Rev. Zahradka received a Master of Divinity from Baptist Theological Seminary at Richmond in 2017 and was ordained by Central Baptist Church, Chesterfield in 2018. During his time at BTSR, Rev. Zahradka recognized that a union between his technical and theological training was where the Spirit was leading, recognizing his call to God's mission in the world. After establishing a small garden at Central Baptist to help supply the food bank there, he spent a year as an intern with the Baptist General Association of Virginia as a consultant for churches with an interest in community gardening. He has authored a study series on Food and Faith and has led this study in multiple churches. In addition to serving as the chair of the Board of Trustees for Sophia Farms, Rev. Zahradka is also working to establish a not-for-profit organization on his family farm focusing on community agriculture. Rev. Zahradka lives in Chesterfield with his wife, Amy, and daughter, Rachel.