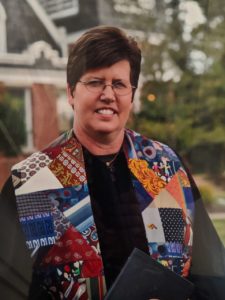 A life-long resident of Virginia, Rev. Shereda was raised in Chesterfield County in a Catholic home. Through the friendship of a Baptist minister's wife, she joined the Baptist church at 17. Her career path led her first to the Virginia State Park System, eventually becoming a Chief Ranger. Her marriage to Paul brought Rev. Shereda back to Chesterfield where she began work at a nursery, becoming a Virginia Certified Nurseryman and Master Gardener.
Looking to buy a farm, when the Sheredas first set foot on Laurel Branch Farm in Dinwiddie, they knew they were home. They farmed twenty acres of cropland, hosted school groups and families, and ran a farmer's market on site. Rev. Shereda also started a small nursery.
While Rev. Shereda was serving as a part-time Minister to Youth, a deeper call came as the Spirit led her to seek full-time ministry. Paul transitioned to becoming a cattle farmer, and Rev. Shereda attended seminary and served the church. During this time, Paul was diagnosed with terminal cancer. In his six years after diagnosis, Paul saw his wife graduate and be appointed to her first full time pastorate.
Rev. Shereda continued in the pastorate after her husband's death and sought out a farmer to work the fields and keep the farm active. Knowing she would eventually have to scale down and probably move off the farm, she began to pray about such a transition. She wanted someone who would honor the history and tradition of producing food from the soil, who would love the farm's beauty and serenity, and who would care for the farm as she and Paul had. With the invitation to join the Sophia Farms board came a new revelation and the beginnings of a new conversation, as both Rev. Shereda's hopes and Sophia's hopes began to take shape together.
Rev. Shereda is the senior pastor of Purdy Baptist Church in Emporia, Virginia. She received a BS in Christian Ministry from Bluefield College, Virginia, and an MDiv from Baptist Theological Seminary at Richmond. Ordained in 2002 by First Baptist Church of Petersburg, Rev. Shereda has also served Virginia churches in Henrico, Petersburg, and Jarratt. Her mission and ministry experiences have taken her to Kentucky, Florida, North Carolina, Texas, Tennessee, Georgia, Kenya, Slovakia, the Czech Republic, Poland, Austria, and Canada. In her leisure time, she enjoys fishing, woodworking, and gardening.